Grammarly for All
We've made some major improvements to Grammarly over the past year. The BEST part? Now, you can check your writing with Grammarly everywhere you write—for free. Check out our new products and features below.
Grammarly's Mobile Keyboard
Use Grammarly's keyboard for clear and
effective emails, documents, and more.
Grammarly Native App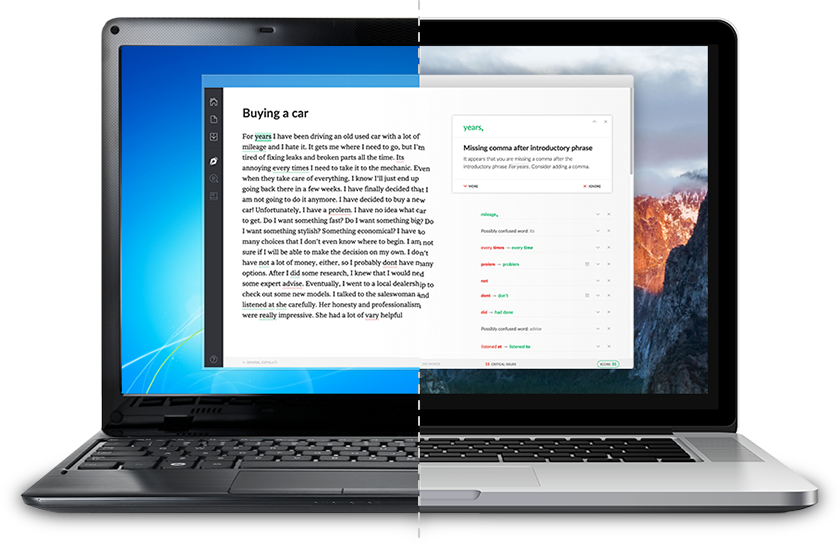 Focus on your writing with the official
Grammarly app for OS X and Windows.
Grammarly for Your Browser
Use it on Gmail, Facebook, LinkedIn, and tons of other sites...
Now you can install the Grammarly browser
extension on Chrome, Safari, and Firefox!
Grammarly for MS Office™
Our robust spelling and grammar checker
is now available for free.
Cool New Features
Collocations
Grammarly intelligently detects words that do not fit together.
He preferred a
powerful cup of coffee
b
strong cup of coffee
in the morning.
Order of Pronouns
Grammarly now fixes out-of-order pronouns in compound phrases.
Her children and she
b
She and her children
will vacation in Seattle.
Infinitive vs. Gerund
Grammarly now corrects misused infinitive and gerund phrases.
The loud noises prevent me
to sleep
b
from sleeping.